Product Categories, Tags, & Attributes 
The Product Data meta box is where the majority of important data is added for your products.
General section
SKU – Stock keep unit (SKU) tracks 

products

. Must be unique and should be formatted so it does not match any post IDs. For example, post IDs are numbers so a SKU could be WS01. That could stand for WooShirt 01.
Price

Regular Price – Item's normal/regular price.

Sale Price – Item's discounted price that can then be scheduled for certain date ranges. The sale expires at 

11:59pm

 of the specified end date.
Shipping section for courier (They will know what to do if they managing the store's stock level etc)
Weight – Weight of the item.
Dimensions – Length, width and height for the item.
Shipping Class – Shipping classes are used by certain shipping methods to group similar 

products

.
How

 to 

add

/edit 

product

 attributes
Set global attributes
Go to Products > Attributes to add, edit, and remove attributes.
Here you can quickly and easily add attributes and their terms.
Add

 a Name press Enter
Select Add Attribute.
The attribute is added in the table on the right, but without values.
Select the gear icon to add attribute values. You'll see "Configure terms" when you hover over it.

Next Add New "Attribute name", where "Attribute name" automatically takes the name you gave the attribute in the previous step.
Add as many values as you wish. If you selected "Custom ordering" for the attribute, reordering your values can be done here.
Add

 global attributes to 

product

Add the created attributes to your products.

Go to: Products > Add Product (or edit an existing one).

Select the Attributes tab in the Product Data. There you can choose any of the attributes that you've created in the dropdown menu.

Select Add.

If you selected a global attribute that you previously created, you can select terms that you added previously.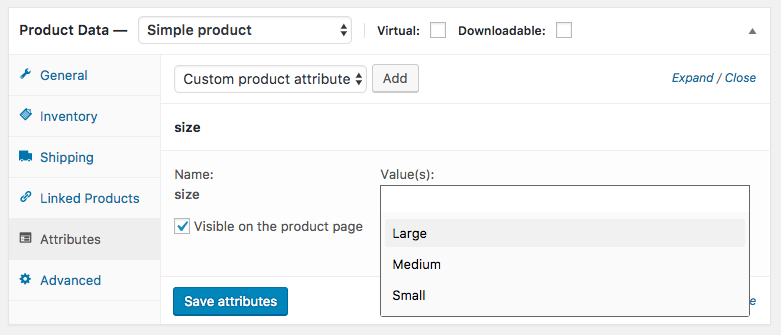 Add custom attributes
Alternatively, add an attribute you only want to use for one product. This would only be ideal if you have a product with unique variations.
Go to: Product > Add Product.
Select the Attributes tab.
Select Custom product attribute in the dropdown and follow the above steps.